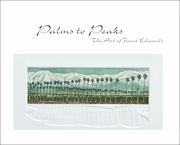 From the publisher -- "
Palms to Peaks: The Art of Janet Edwards
is a collection of more than 60 full-color works that trace the development of artist Janet Edwards over a career spanning nearly half a century. Edwards, a lifelong resident of California, is a regional realist whose etchings capture the history and natural beauty of the state. Through this collection, Edwards pays homage not only to the stunning vistas, palms, groves, flora, and fauna that have become icons of Southern California life, but also to the coastal, central, and northern regions of the state."